The UWI Congratulates Dr Soomer on receiving St Lucia's Highest Independence Honour
The UWI Open Campus Congratulates Dr Soomer on receiving St Lucia's Highest Independence Honour
Office of the Pro Vice-Chancellor and Principal. March, 01, 2021 – The University of the West Indies (The UWI) Open Campus expresses warm congratulations to its Campus Council Chair Dr June Soomer on her recent award of the St Lucia Cross, the country's highest national award.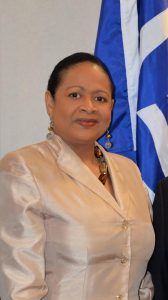 Dr Soomer was among three persons awarded the prestigious honour on Monday, February 22, 2021, St Lucia's 42nd Anniversary of Independence. Dr Soomer received the award for "distinguished service in Education, Diplomacy, Regionalism and Development Specialty," the statement from the Governor General's Office stated.
"The bestowing of St Lucia's highest honour is a significant statement about Dr Soomer's contribution to St Lucia and the region, and we at the Open Campus certainly share in this view of the Chair as a very astute, intelligent and confident regionalist. The UWI Open Campus is therefore thrilled to learn of the elevation of our Campus Council Chair and wishes her continued success."
In 2018 Dr Soomer was appointed Chair of the Open Campus Council. This was the first time a female was appointed to serve in this capacity. In that same year, she also received The University of the West Indies Alumni Association Pelican Award for excellence in diplomacy, public service and the promotion of regionalism.
Dr June Soomer received her PhD in History from The University of The West Indies in 1994. She was the first female to graduate with a doctorate in History from the Cave Hill Campus.
She served as Saint Lucia's Ambassador to OECS and CARICOM with responsibility for Diaspora Affairs. A position she has held from 2008-2016.
Most recently Dr Soomer was Secretary General of the Association of Caribbean States, a position she vacated in 2020.
---