Tropical Storm Gonzalo Advisory #5
A tropical storm warning has been discontinued for Saint Lucia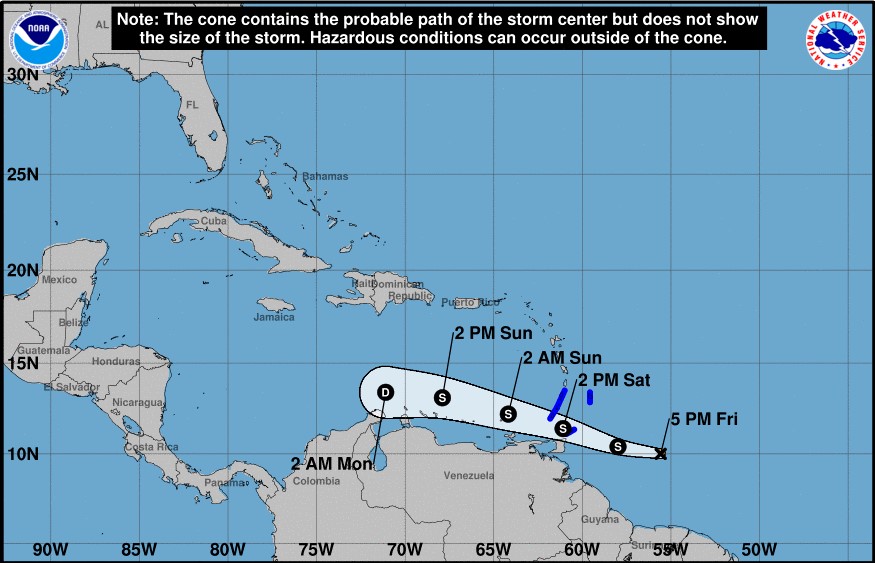 At 5:00 pm today the centre of Tropical Storm Gonzalo was located by an Air Force Reserve Hurricane Hunter Aircraft near latitude 10.0 degrees north, longitude 55.6 degrees west or about 457 miles or 736 kilometres southeast of Saint Lucia.
Maximum sustained winds have decreased to near 40 mph or 65 km/h, with higher gusts.  Some slight strengthening is still possible before Gonzalo reaches the southern Windward Islands but Gonzalo is expected to weaken after it moves over the eastern Caribbean Sea and dissipate early next week.
Tropical Storm Gonzalo is moving towards the west near 18 mph or 30 km/h. A general westward to west-northwestward motion is expected for the next couple of days.  On this track the centre of Gonzalo will move across the southern Windward Islands Saturday afternoon or evening and over the eastern Caribbean Sea on Sunday. 
A Tropical Storm warning has been discontinued for Saint Lucia.
Tropical Storm warning is in effect for Saint Vincent and the Grenadines and Barbados, Grenada and its dependencies and Tobago. 
Gonzalo is expected to produce total rain accumulations of about 2 to 5 inches or 50 to 127 mm, with isolated maximum amounts of 8 inches or 200 mm over the southern Windward Islands.  Moderate to heavy showers are still possible over Saint Lucia, therefore residents and motorists in areas prone to flooding and landslides are advised to be vigilant and exercise caution.
Swells up to 9 feet or 2.7 metres generated by Tropical Storm Gonzalo will begin affecting portions of the Lesser Antilles by later tonight.  Small craft operators around Saint Lucia and the southern Windward Islands are asked to exercise extreme caution when venturing far from port.
This will be the last advisory issued on Tropical Storm Gonzalo, however the Saint Lucia Meteorological Services will continue to closely monitor the progress of this storm and another update will be issued at 8:00 pm.
---