Real Foods Inc. – COVID-19 Update
Effective Monday March 23rd 2020, we discontinue dine-in transactions, as a proactive measure of control and mitigation of any risks at this time.
With due consideration for the growing concerns of the impact of the COVID-19 virus, the recent confirmation, by the Ministry of Health, of 2 initial cases on island, and the declaration by the World Health Organization of a pandemic, KFC St. Lucia has taken some very decisive action.
The Safety of our team members and our consumers, remain of paramount importance. Consequently, high touch point and heavily trafficked areas such as front doors, rest rooms, hand railings, front counters and cash registers will see more frequent cleaning and sanitization rotations, using only approved solutions and chemicals for restaurant applications. This is in efforts to ensure a clean and safe working environment, and maintain our standards on consumer experience.
We have educated our staff and increased their sensitization toward the COVID-19 virus, by providing pertinent information about the virus, as well as enacted protocols for screening and monitoring all team members and other personnel for any noticeable symptoms of infection, before and during all shifts. We remain committed to educating our staff members on the matters related to the COVID-19 virus, so that they remain sensitized and are positioned to serve our consumers in the most appropriate manner.
Effective Monday March 23rd 2020, we will discontinue all dine-in transactions, as a proactive measure of control and mitigation of any risks at this time. This measure will remain in effect until further notice. Social distancing protocols will also be in effect at all our locations. Certain members of our Support Centre team, will be working from home, also in keeping with social distancing protocols. Our Crisis management team will remain current with any and all developments on the COVID-19 virus and will advise on any necessary changes that may need to be made in keeping with said developments.
We are dedicated to keeping our restaurants operational and have held relevant discussions with supply chain partners to ensure that we are able to do so. While we remain confident in our supply chain to meet our current demands, we are cognizant that unforeseen challenges may arise as a result of this pandemic. We will, however, work assiduously to monitor and mitigate any impact to our operations.
We stand in solidarity with and commend all health care workers, government agencies and communities, here and abroad, who have made the sacrifices and assumed the risks of standing on the frontlines in combat of the COVID19 Virus. While we take all necessary steps to bolster our business, we encourage all of our consumers, to also take the necessary precautions to protect themselves, loved ones and colleagues. Practice good hygiene, maintain safe distances and report any symptoms to medical professionals and/or make use of the 311 hotline.
We remain grateful for the opportunity to serve our valued consumers, and committed to providing the highest standards on cleanliness, food safety and consumer experience. The health and safety of our staff across every level of the company remains critical, and we take the time to acknowledge their efforts and thank them for their commitment to delivering on brand promises at this pivotal time.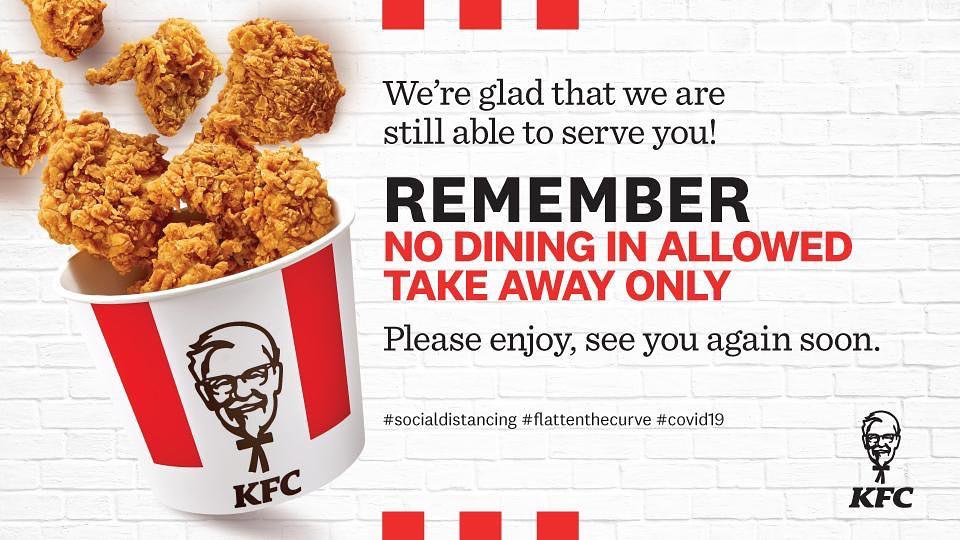 ---